Remote switching / control of plasma generators and loads
Enables use of multiple magnetron sputter sources with a single power supply
Compatible with RF and DC plasma power generators
Available internal RF blocking filter to protect the DC generator
Standard and complex switching configurations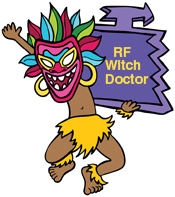 Matrixx Switch Modules are designed to solve many plasma process system integration challenges. These modules enable one or more plasma power supply(s) (RF and/or DC) to be remotely switched between multiple magnetron cathodes. The image above shows a model with RF and DC power supply switching capability. The DC power supply port in this model includes a high efficiency, low loss RF blocking filter which is designed to keep all conducted 13.56MHz RF energy from travelling back and reaching the DC supply.
Matrixx Switch Modules will Rid your multi-cathode and
multi-power supply sputtering system of it's coax cable

Rats Nest

!
Matrixx Switch Modules are compatible with all manufacturer's DC and pulsed DC power systems as well as with RF power systems up to 450MHz. We offer specific models to complement your application so please contact us for detailed information. Please advise us with the following information:
How many power supplies (inputs) will be used ?
How many cathodes (outputs) on the plasma system ?
The type of connectors (coaxial or hard wired) used on the power supply output and the cathode ?
The maximum power or current delivered to each load (output) ?
Include a simple sketch of the (proposed) system and it's components.
Manitou Systems offers many configurations to satisfy simple or complex switching requirements. Vacuum relays are used to perform the switching function. All interconnect wiring consists of silver plated, low resistivity conductors. Various industry standard coaxial connectors are employed to complete the interface.
Click on the links below to learn more about specific models and their applications
Downloads
Save
Save
Save
Save
Save
Save
Save
Save
Save
Save
Save
Save
Save
Save
Save
Save